---

Welcome our new Assistant Principal for K-3, Alexis Montgomery.
Ms. Montgomery has been an educator since 2015. She grew up in the Olney neighborhood, having attended J.S. Jenks Elementary School and Science Leadership Academy. She started her educational career within the Baltimore County Public School System. Prior to her new role as Assistant Principal for K-3, Alexis has served as a Teacher and a Professional Learning Specialist. Alexis has a mission to impact change and student achievement by providing students with access to equitable learning experiences. She looks forward to making a positive impact in the lives of Finletter students.
---
---
Check out our Spotlight located on the right to get valuable information.
Please send your child to school on time. Click here for the Bell Schedule.
Looking for our uniform policy information? Click here to find out.
Would you like to know what your child will eat for breakfast and lunch? Click here for menus.
---
---
The School Selection lottery has been announced. Look at the Spotlight for more information.
---
---
---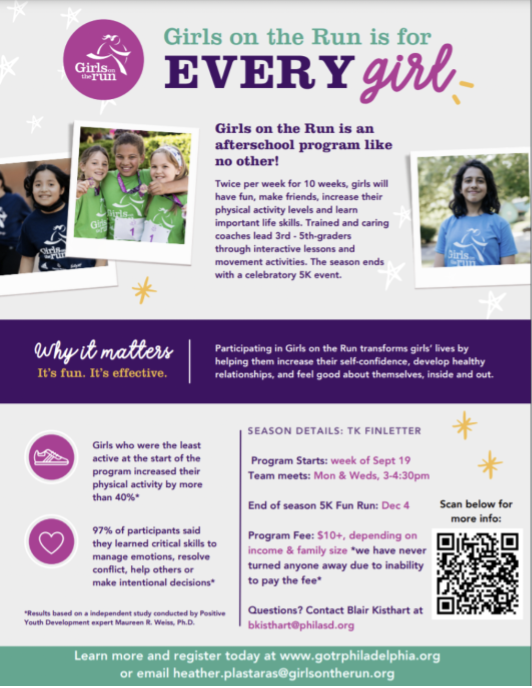 Just a reminder! Girls on the run will begin Monday, 9/19, from 3-4:30! There are still spaces left to join! Mrs. Kisthart will be contacting families this weekend before practice!
See the info on the flyer for Girls on the Run!  Use the QR code or website on the flyer to register. If you have any questions feel free to reach out to bkisthart@philasd.org